Crackling and crunching when our feet touch the ground – as we get out of our cars, frozen blades of grass wrap around our shoes, breaking. Some snow remains, but the cold has turned it into many small patches of ice scattered throughout the city. It's January 14, 2023, and fog lies over Bakhmut. It could almost seem peaceful, dreary but somehow beautiful – if it weren't for the sounds. Impacts of Russian artillery, air defense, machine guns.
It is a special day for Base UA.
Something unexpected
Since October, we have been working with the Ukrainian NGO FRIDA. Together we organize mobile clinics for people in the combat zone and the now-liberated cities. Today is another such day. Thirty doctors of different specialties are in Bakhmut with Base UA. Basic medical care is no longer available in most areas near the front line. In Bakhmut the only remaining hospital is a military one. With FRIDA, Base UA can provide this care to the civilians still living there.
But then something happens.
Something that was not planned.
We are standing in front of the bomb shelter, just about to pack up, when we hear a noise from the left. An engine roars, tires crash over frozen chunks of mud. Pieces of gravel shatter. A military vehicle rushes up to us. Shrieking brakes. Two soldiers run out. They have seen our ambulance.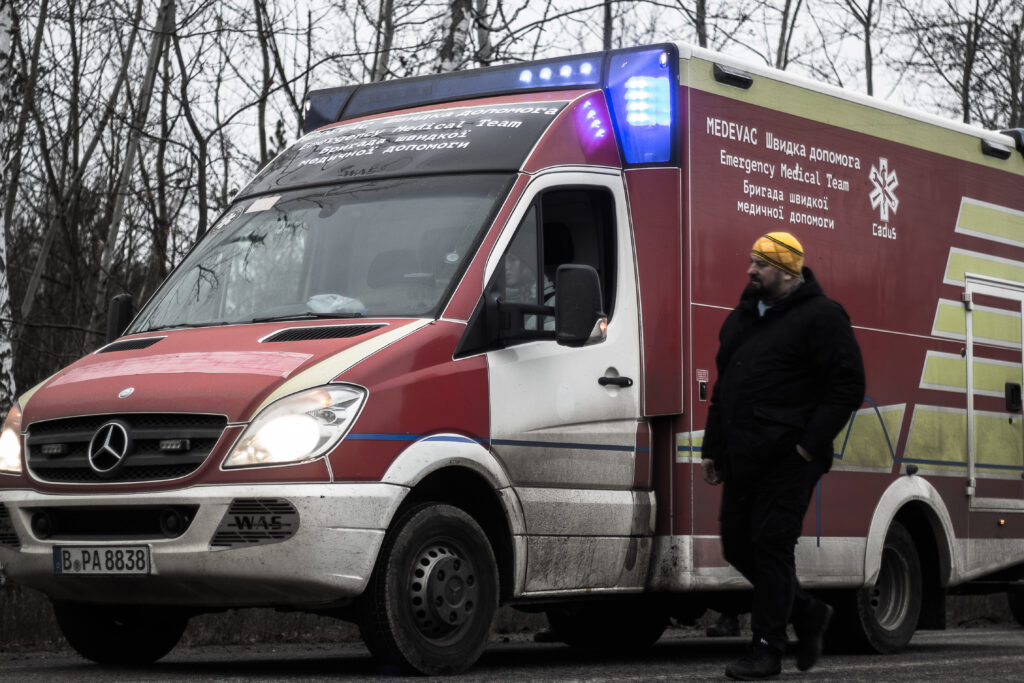 They open the rear doors. We can already hear the screams.
Dima, a soldier in their unit, screams his pain into the cold city. His breath freezes in the air. Around his green eyes, blood is splattered. Mud and blood. A mortar attack? But now is no time for questions.
The soldiers have to return to their unit quickly – there are more injured.
We are alone with Dima.
Our ambulance is already packed, but we find room for the injured soldier. He has to be stabilized – now, during the ride. Again and again, Dima cries out while two of the FRIDA doctors search his body for wounds. The road is bumpy. Freddie drives the ambulance, trying to avoid the biggest potholes. Speed and pain – there are no other options.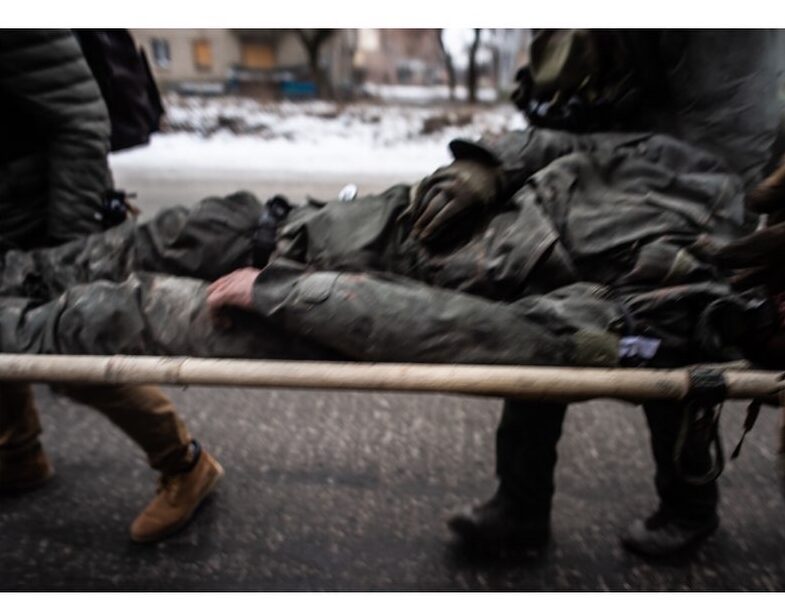 Screams an unconsciousness
We drive Dima to the military hospital. It has already been bombed several times in the past… Burnt-out ambulances stand in front of the main entrance, the cold air bites into our limbs. Dima continues to scream, cursing, while our team members and the hospital's paramedics continue to stabilize. Four people work on him, cutting off his uniform, packing his wounds with gauze. One wound on his arm is so deep, we have to apply a tourniquet. But the arm is broken – more pain, excruciating.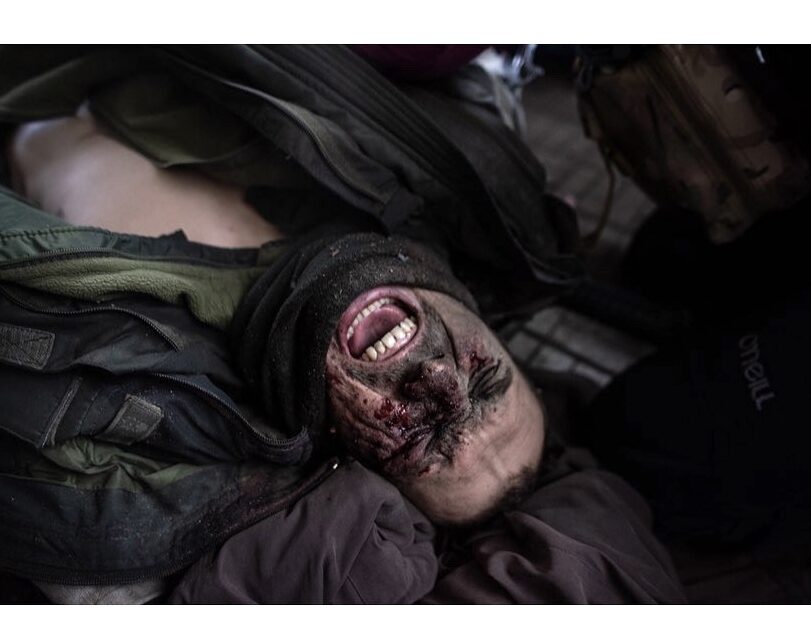 Dima's condition alternates between screams and unconsciousness. We have to keep him awake, keep him alive. "Dima," we call out to him, giving his cheeks light slaps. Then he opens his eyes again for a short time, until he squeezes them shut in pain. "Dima, you are a lucky man, you will see your wife again," Alex, our photographer, calls to him while trying to keep him conscious.
We learn that the young soldier had become a father just a few days earlier.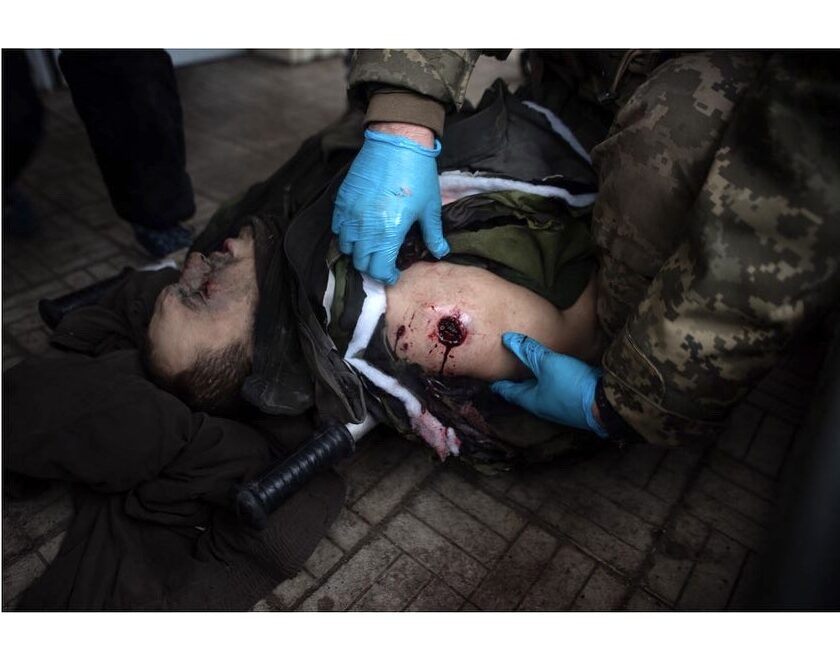 "Dima," our team member Ihor yells at him. "Dimonchik!" Again, Dima fades to unconsciousness. "Dima!" Another slap on his cheek. "Dimon!" He screams again.
It takes a while for the ketamine to take effect. Dima's pain-distorted face relaxes, a brief smile even crosses his lips. Until we are sure that he will remain stable, we stay by his side.
A rare happy ending.
Two weeks later, we are able to visit him in the hospital in Kyiv.